Wagoneer Dealer Jasper AL

A proper Wagoneer dealer near Jasper, AL, is the best place to begin your search for this luxury SUV. This version of the Wagoneer hasn't been in the SUV game long but it's created the type of buzz and excitement that demands attention.
With the elegant body shape and lines, the rich interior appointments, the sheer abundance of technology throughout the cabin, the Wagoneer feels like something a decade ahead of its time.
Understanding the nuances of this SUV and how you can finance and service it are possible when coming to our helpful Bill Penney Chrysler Dodge Jeep Ram dealership!
Why Has Wagoneer Generated so Much Acclaim?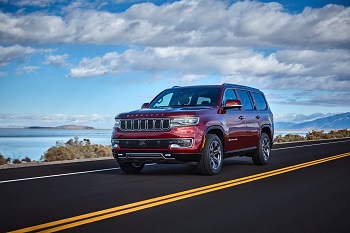 The current fixation on SUVs in the automotive marketplace means each model that debuts is going to be thoroughly judged and picked apart. Wagoneer dazzled upon first appearance and has only grown more intriguing as folks familiarize themselves with the luxury SUV.
Capable of seating up to eight people in complete comfort while also towing a hefty towing capacity, families will be drawn to the impressive capability of Wagoneer. This is far more than just a utilitarian SUV, however, as the interior is a masterclass of soft materials and new-age technology.
Depending on the trim level you select and the packages you opt for, the front passenger and the second-row passengers will have a screen all to themselves. The level of connectivity available is astonishing.
There's much more to dive into when looking at Wagoneer. We encourage you to read our reviews and utilize our online inventory if you're curious. Our staff is also happy to answer any questions that come up during your SUV search.
Of course, the time will come when you want to get behind the wheel, something we're happy to help you do!
Our Wagoneer Dealer: Finance and Service
When we work to develop a finance plan and service schedule, we specifically tailor them to you and your Wagoneer.
You can begin discussing finance options with our experts whenever you're ready. These experts are around to support you. From answering questions to making suggestions that enhance your preferred goals, you'll find they make the finance process straightforward. With the pre-approval form, they'll also get a stronger grasp on what type of agreement you're looking for.
Service is going to be specific to your Wagoneer as well. Depending on how much off-roading or towing you do, you might need certain parts replaced or services performed that other Wagoneer owners may not. We have everything set up in our facility to help you enjoy this luxury SUV for as long as possible.
If you require another model when your Wagoneer is being worked on, we have rentals ready and waiting.
A Wagoneer Dealer Is near Jasper Alabama
Wagoneer has sent shock waves through the luxury SUV segment. As excitement continues to build around this model, you can stay one step ahead of the crowd by contacting our Bill Penney CDJR dealership and test driving the SUV yourself near Jasper, Alabama.